"Please Deliver To"
From fancy calligraphy to rubber stamped images, this salutation is often found on the outside of envelopes as a playful directive to the mailman or woman for clarity on who to deliver our letter to.
Since my envelopes needed something other than my limited cursive talents, I trolled Etsy for the aforementioned 'Please Deliver To' greeting on a rubber stamp I had seen on Instagram. It was a simple banner design with fine lines and legible script. Once found, I purchased and used it over and over again when addressing my envelopes. To say I was (and still am) obsessed with that stamp is an understatement. Add some colorful vintage postage stamps (totaling $.55 for a First Class letter) and my envelopes finally looked like small works of art. #proud
Please meet Jen Montgomery, the master behind this stamp and Paper Sushi, based in the mountains of Central Oregon. Jen is the "owner, sole designer and doer of everything else-r" at the PS Headquarters. For Jen, it's all about pretty paper beautifully packaged.
"The only thing better than thoughtful gifts and heartfelt letters are thoughtful gifts and heartfelt letters, beautifully wrapped and delivered. Paper Sushi combines hand-lettered goodness with playful illustration and clean lines in a casual and modern aesthetic. All products are meant to bring people together, make them smile and most of all to be fun."
Imagine my delight when I received a direct message from Jen, commenting on one of my envelopes (using her stamp) and inquiring if I'd be interested in collaborating on a new product? I didn't pause or ponder before responding with an all-cap YES and a few exclamation points…so she'd sense my overwhelming enthusiasm.
Our creative minds went to work immediately, mulling over various stamp options that letter writers and pen pals would enjoy using. My desires (and numerous emails bordering on stalking levels) were for small images that could fit in and around the address, between vintage postage stamps, and to simply decorate blank space intentionally with a creative flare.
As it happens, great ideas generate excitement, plans, proofs, and potential manufacturing / marketing nuances to be worked out. It didn't take long for our joint ideas to become optimal sketches. Jen and I went back and forth until the Happy Mail Rubber Stamps set was exactly as envisioned, including the beloved banner idea with a fresh take on 'deliver directives.' Along with For, From, happy mail, and love salutations, a modern snail and paper airplane are included in a muslin bag to round out this six-stamp collection.
The Happy Mail Rubber Stamps set retails for $30 and includes a FREE mini Colorbox inkpad to get you started. All OPW customers will enjoy 20% Off your order by using OPWMAIL at checkout, through June 30, 2018.
Write more letters, decorate envelopes, and ponder the journey your mail will take? How many hands do you think they pass through from your house to that of your recipient? I'm certain it's no less than a half dozen. That's at least six smiles you're potentially responsible for. In my estimation that sounds like a good excuse to up your envelope art! Let One-Per-Week and Paper Sushi help make more people smile with our new Happy Mail Rubber Stamps set.
Happy stamping. Happy mail. Happy day.

Lori Christensen & Jen Montgomery
One-Per-Week & Paper Sushi
(yep…you can click those)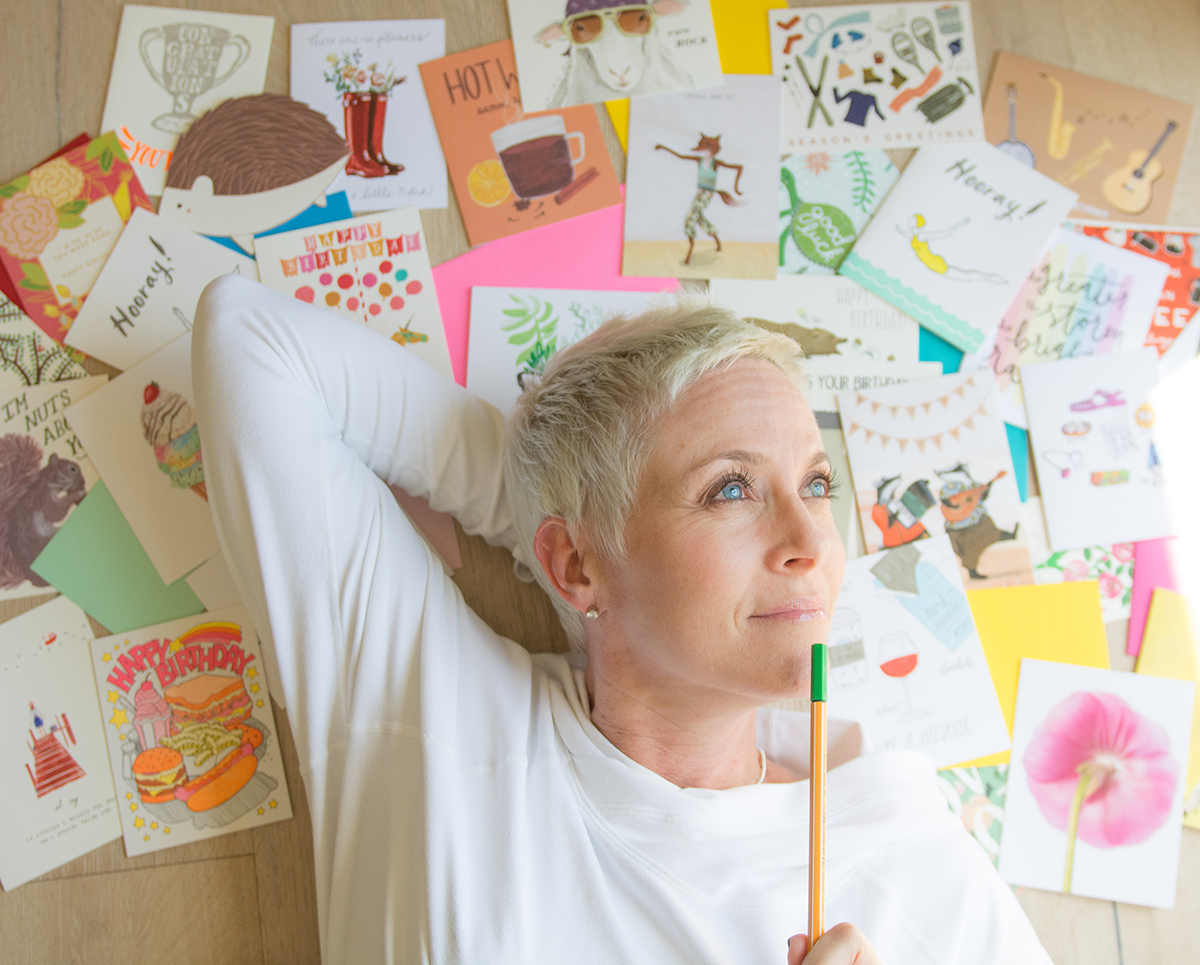 Enjoy monthly deliveries of 4-5 themed cards with a One-Per-Week subscription.